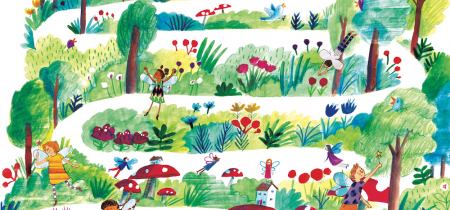 Fairy Folk Fun
Join the Thorne Community Wood team and #IoAHC team for a day of magical fun for all the family. We start of the event with a poetry walk through the wood with the wonderful poet, Addy.
Join our poet, Addy Farmer, on a magical walk around the woods to designed to inspire young poets.
Join Addy, on a short magical walk around the wood. Whilst wandering through the beautiful trees, she will help the children imagine where the fairies might be hiding, what they might look like and be doing. This free workshop is designed to develop young children's imagination and vocabulary and to help them start to form their own ideas about fairy tale folk . It is suitable for all ages but would particularly benefit children aged 5-12. The workshop will give children a head start towards writing their very own poem and will launch the fairy poetry competition which will run for three weeks.
A parent/guardian will need to accompany the child or children at all times. Only 15 places available! Booking a ticket reserves your child a place. This is provisional on arrival at the event before 1.10pm, after which the spot will be offered to another child at the event. The walk will commence at 1.15pm and will take approximately 20mins.
Book your ticket at eventbrite: https://www.eventbrite.co.uk/e/fairy-poetry-workshop-tickets-58493177669?aff=efbevent&fbclid=IwAR3AeivTaxDMmGxu9RTqoK0o6BDsJ7-ryTLiFmKOrlh-j1zvjaGp6nZ5DLY 
As this is an outdoor event, please come wearing suitable clothing and footwear as the wood can become muddy after periods of rain.
On the day, there will also be fairy crafts, magical messy play and a trail round the wood to hunt down some famous fairies and elves. A fairy glade within the woodland will be created and this day will mark the judging for the fairy house competition, which we hope will see people of all ages and abilities bringing their own fairy houses to add to the spot.
Why not enter the FREE fairy house competition? All houses will be judged and then placed into our fairy glade on Sunday 14th April during our Fairy Folk Fun event. The Friends can supply small logs on request or you can come up with your own creations.
The competition is open to all ages and abilities. If you are planning to enter, it is not essential but we'd appreciate it if you could let us know and give us an idea of the age of entrant. That way we can ensure we have enough space for all the houses and enough prizes to award to the lucky winners. Contact the Thorne Community Wood team at [email protected]