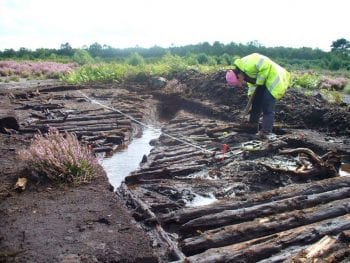 Become a Stone Age builder! Experimental Archaeology Workshop
Experimental Archaeology: Become a Stone Age builder with Dr Henry Chapman and Mark Griffiths. Nearly 5,000 years ago a mysterious wooden trackway appeared in the moors landscape. What was this? Who and why did they build it? This project aims to answer some of these questions, but we need your help to find out more!
During this 2-day training workshop volunteers will learn more about the trackway and the Neolithic people who made it. This opportunity will provide the necessary training and skills it takes to become a Stone Age trackway builder. It is also an opportunity to meet and work alongside the archaeologists who excavated the original trackway back in the early 2000s, Dr Ben Geary and Dr Henry Chapman. Well-known experimental wood worker, Mark Griffiths and James Dilley from Ancient Crafts will also be on hand to demonstrate and guide volunteers throughout future sessions.
During the session, you will source suitable trees from the site and using Stone Age tools fell and prepare the timbers ready for the reconstruction.
Saturday 26 Jan 9:15am to 4:30pm
Sunday 27 Jan 9:30am to 3:30pm
VOLUNTEERS NEEDED
Volunteers will help build the Lindholme Neolithic trackway reconstruction during the early months of 2019. Further building sessions are currently planned for 9th & 23rd February and 2nd & 30th March at Hatfield Moors. We anticipate that trained volunteers will attend these sessions and use their newly acquired skills to build and complete the reconstruction.
•Equipment will be provided.
•Please wear warm waterproof clothing and sturdy boots/wellies.
•Please bring along a drink and your lunch.
•This activity will require physical exertion. Please be aware and consider your health, any medical conditions and general well-being prior to attending the session.
For more information visit www.ioahc.net or contact the Isle of Axholme and Hatfield Chase Landscape Partnership on [email protected] or 01724 297536.
For access and site information (Hatfield Moors) visit www.humberheadpeatlands.org.uk