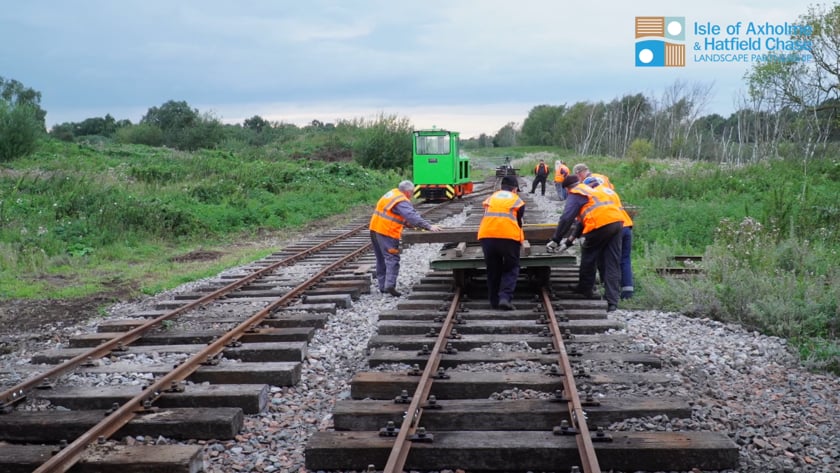 Project Overview
This project set out to explore the rail and industrial history linked to Thorne and Crowle Moors.
As well as directly restoring locomotives, it secured a workshop, testing area and engagement over heritage. Volunteer and public training enabled more understanding and long-term sustainability of maintenance for this part of the local industrial heritage.
The work covered practical restoration work of all the old equipment by qualified membership and other volunteers. It also set out to provide an educational project for visits, training and in the longer-term access for all.
Project lead organisation and other organisations involved
Lead: Crowle Peatland Railway Society
Measure
Renewing the maintenance workshop and make secure
Fully restore a Simplex and Schoma Loco
Develop test track area for education and demonstrations
Restore three pieces of winning equipment for display
Record oral history relating to ex peat workers
Design and display interpretation boards
Maintenance programme for on-going project support
Provision for volunteer training facilities
Working hours of volunteer time
Working towards charity status
Acceptance to the Heritage Railway Association (HRA) Commercial
Target
1
2
1
3
2
15
1
1
5250
1
1
Delivered
1
2
1
3
2
15
1
1
5250+
1 Charity status achieved in Winter 2018
1 Accepted as full members in Winter 2018
What difference has this project made reconnecting people with their landscape and cultural heritage?
The Crowle Peatland Railway has reconnected people with their landscape and cultural heritage in a number of ways:
Volunteers have dedicated a huge number of hours towards the creation of the railway and the restoration of its trains.This has included many additional tasks such as laying track and writing interpretation boards, whilst many of the volunteers have a train/engineering interest, working on the railway has allowed them to understand and appreciate the heritage of peat extraction industry.
Students of North Lindsey College have been involved in many aspects of the creation of the railway, initially with those on Uniformed Services focused courses who came out to site to help clear it in preparation for build; to later years where engineering students have been on site helping to restore the Simplex Locomotive.
The Crowle Peatland Railway is now open and the volunteers at the railway have run open days/weekend that have allowed visitors to learn about the trains and peat extraction industry, the people who worked on the moors and the vital importance the moors now play for the environment.
"Crowle Peatland Railway – Facinating! So much history that I didn't know existed."
"Fantastic to see the progress made so far. I will definitely be back in the future. Fantastic group of volunteers on site, very helpful and friendly. So pleased I managed to visit. Photos will eventually go onto my website which is all Narrow gauge and Miniature Railways NGON30. Many thanks to you all."
The Crowle Peatland Railway are working on a number of expansion opportunities, this includes the creation of a cafe on site to serve volunteers and visitors to the railway alongside those who are exploring Crowle and Thorne Moors. Funding for this has been secured, with the railway now awaiting planning permission.
There are also aspirations to extend the length of trackway at the railway, from 100m to approximately 600m. This will give visitors a real ride on the trains and provide a destination, the edge of the Moors.
Gallery
Tags
peatlands-wetlands,crowle-railway,railway,peatland-railway,railway,peatlands-railway,peatlands-wetlands,crowle-peatland-railway,crowle-peatland-railway,