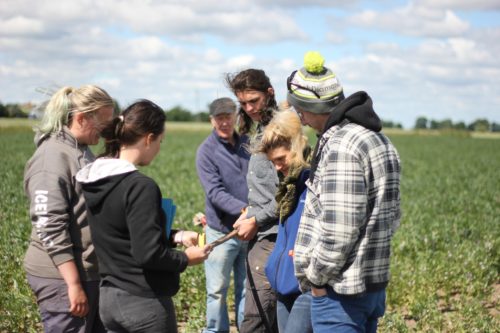 PalaeoFest: Geoarchaeology & Coring Workshop
PalaeoFest: Geoarchaeology & Coring Workshop
DATES: Sunday 30th June – Tues 2nd July 2019, 9am – 5pm.
VENUE: Near Sandtoft, North Linconshire (30th), Near Thorne, South Yorkshire (1st & 2nd)
Book your place via the Eventbrite link: https://www.eventbrite.com/e/palaeofest-geoarchaeology-coring-workshop-tickets-63917271279
Learn more about how scientists reconstruct past landscapes and environments from the mud beneath our feet!
The event is restricted to up to 5 participants each day; participants should be able to attend at least one full day.
There is no cost to participants, just an enthusiasm to learn! However, you will need to be able to get to the field site as there is no transport for participants.
About this Event:
This geoarchaeological coring workshop is run by Project Wildscape. It is an opportunity to learn how researchers study and interpret past landscapes by looking at the sediments beneath our feet.
Background:
Project Wildscape's goal is to reconstruct how the Humberhead Levels looked before the Drainage by Vermuyden by analysing the 'hidden landscapes' buried deep underground. Most of the reconstruction work from past researchers has previously been conducted upon the Thorne and Hatfield Moors. Now, we are looking to expand on this knowledge to investigate the surrounding floodplains and how they looked and functioned. There areas are especially important as they were the areas which had the most interactions with the local people's daily lives. During this workshop we will be targeting two 'meres,' or former lakes.
What you'll be doing:
During this workshop we will be conducting a campaign of geoarchaeological coring. Coring is a geoarchaeological method we use to retrieve and analyse samples that are buried too deep for conventional digging and to map the underlying topography across large areas. During this workshop we will be surveying former meres in the Humberhead Levels and recording their stratigraphy though coring.
Coring requires us to push a small chamber through sediments using a series of extendable rods to retrieve the sediments and can be physically demanding. By analysing and interpreting this stratigraphy, we can determine how the landscape developed over time.
For more information about why and what we do, please refer to the links below:
https://www.youtube.com/watch?v=_zCqfWCSXV8
https://historicengland.org.uk/images-books/publications/geoarchaeology-earth-sciences-to-understand-archaeological-record/heag067-geoarchaeology/
Who it is for:
You don't need to know ANYTHING about the subject before you come. This workshop is for anyone wanting to learn more about how researchers find out about past landscapes and environments from the mud beneath our feet!
Why come along?
The Project Wildscape team is passionate about what they do and would like to share this passion with others. Rather than just telling you about it, we want you to join in with the practical aspects of this work to see if you enjoy it as much as we do!
This event will run in conjunction with another Wildscapes event focused on pollen analysis; you can sign up for this event separately. More information about this workshop can be found at: https://www.eventbrite.com/e/palaeofest-a-citizen-science-workshop-on-reconstructing-past-landscapes-tickets-63454358695?fbclid=IwAR2nce4GPwtS23Yj8ex-vngJyxnUW7AjnI5NCtcctn4zZUrrmEFJtvlCgTE
Programme:
Sunday 30th: June, 9a-5p, site near Sandtoft
Monday 1st: July, 9a-5p, site near Thorne
Tuesday 2nd: July, 9a-5p, site near Thorne
Locations will be released only to those who sign up in order to protect landowner privacy; arrangements for meeting will also be made.
Who will be teaching?
Ms Nika Shilobod is a PhD student on the Wildscapes Project at the University of Plymouth
Dr Ben Gearey is a Lecturer in Environmental Archaeology, University of Cork, Ireland
Prof Henry Chapman is a Professor of Archaeology, University of Birmingham
Dr Kim Davies is a Research Fellow, University of Cork, Ireland
Their research focuses on understanding how landscapes in Britain have changed over long time scales and what role humans have played in shaping these changes.
Signing up:
When signing up please indicate what your previous experience is on the topic so we are aware of our audience and which days you wish to attend.
This work requires a certain amount of physical fitness and will be conducted rain or shine.
Decent waterproof gear is recommended and sturdy walking boots or shoes are required. Depending upon conditions, the work can be quite 'dirty' and you may find a pair of waterproof trousers useful to protect clothing. This procedure needs at least 3 to 5 people to be conducted effectively.
Please dress weather appropriate for working outside on the day(s) you are planning to attend.
We will have a lunch break during the workshop; please bring along a packed lunch, plenty of water and any other refreshments you need. Sunscreen is recommended in case of good weather and a change of clothing in case of bad weather.
Any questions may be raised with Nika Shilobod, [email protected]