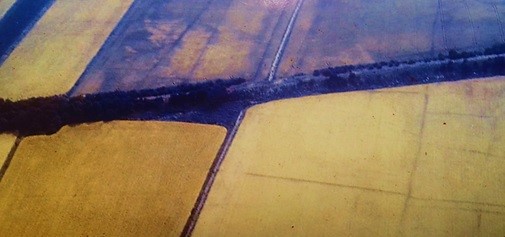 Retting Pits and Photos from the air: The Isle of Axholme
Saturday 2nd Feb
Wesley Memorial Methodist Church, Epworth
Photos from the air – the Isle of Axholme
This free 2-hour workshop will introduce photos of Isle of Axholme from the local Historic Environment collection.
The term aerial archaeology is used to describe the various processes relating to the discovery and recording of archaeological sites from the air. These processes include both the actual taking of photographs and the mapping and interpretation of archaeological sites visible on aerial photos.
Growing Flax and Hemp on the Isle of Axholme
With Angus Townley
Flax and Hemp have been important economic crops in the Isle of Axholme since early times. In 1639 to compensate for the loss of fishing and fowling rights, caused by the drainage of the Isle, the commoners of Epworth were awarded £400 "for a stock to employ their poor people in the making of sackcloth and cordage".
Flax and hemp laid the foundations for a comparatively large scale domestic industry of spinning and weaving. At one time the Isle of Axholme had a flourishing sack and canvas making industry. To the average peasant family of the sixteenth century it was profitable by-employment where-as to the poor it was one of the principal ways of earning a living. This talk will outline the project that will try and find out more about this once important industry – both from looking at what remains and also through experimental archaeology.
Come along to this event to find out how you can get involved in archaeological investigations of retting pits and an experimental project to grow and process flax. In addition, we want to record the remains of anything to do with the flax industry, from the location of retting pits, ropewalks and the remains of flax mills. In 2018, the project successfully grew a batch of flax on the Isle of Axholme. Visitors are welcome to come along and take a turn processing this flax on the bespoke spinning unit.
Both these exciting topical workshops are free to attend and no need to book, just turn up.